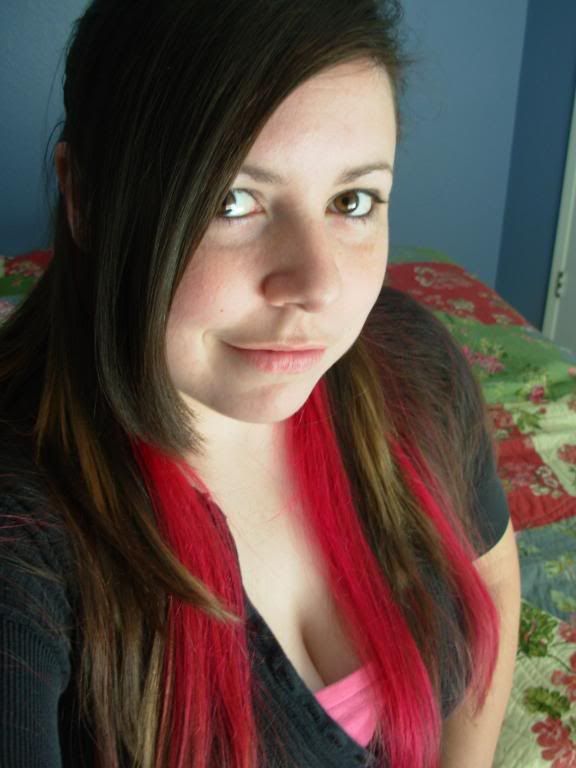 Picture of Me From 2009
So last night for my workout I decided to start off with Just Dance 2. I recently got the game and love it. Of course there are some songs I am just not coordinated enough for. Anyway, I did the "Just Sweat" part and you are able to click between 3 different workouts. First one is Mild, Hard and Intense. I don't remember the specific names but the first one you do 1 song a day and sweat 300 points. Your goal is to get to 1,000 points by 7 days. The next one down you do 3 songs and try to get 1,200 a day (I think) and then the last one you do 6 songs a day and get 2,000? haha I'm not sure! Ahhh!! I guess I'll look it up again tonight and correct it in my post tomorrow.
Anyway, I did Proud Mary, Hey Ya and Wake Me Up Before You Go Go! I actually did way WAY better than I did the first time! Woot! I had originally got 7,100 points on Hey Ya and last night I ended up getting 9,100! It was awesome. Definitely a GREAT workout! I did the three songs and drank a bunch of water and decided to do about 30 minutes on the Wii fit.
I started off doing the body test..Stupid thing said I gained 2lbs since the previous day! >.< Ugh. Well I did the body test and went on to working out. I started off doing lunges, 10 reps on each leg and then went to doing hula hoop for about 3 minutes. Then I turned my youtube app on to Amarixe and watched a couple of her makeup videos while I did 20 minutes of steps at a fast pace. By fast I mean, I do it at the fastest pace they have and go a little faster than that. It was a nice workout. Overall I did about a 35-40 minute workout. Felt good. Took a shower and then went to bed because it was 12:30am.
This morning I got up and was actually AWAKE! Shocking. Usually I'm tired and dragging in the morning. So I got up, got dressed, did all of that and made my smoothie. I got a packet of smoothie mix from Marilyn last night to try out today. It's a Caramel Latte smoothie mix from Weight Watchers. It was amazing! Tasted like I was drinking coffee. Not a fan of the after taste but oh well. It was also my first time using my blender and it was a success! I threw the smoothie into a stainless steel water bottle and on to work I went.
For lunch I'm going to have a philly cheese steak hot pocket and a few pringles (depending on how hungry I am). If I'm not that hungry I'll save those for a snack later on. I know you need to eat like 6 small meals a day or something to that effect. So I'll probably have a few pringles before I head home or maybe my 100 calorie pack of cookies. Yum!
On my agenda for tonight:
Do a 30-60 minute workout (both wii fit and just dance 2)
Drink a lot of water
Go to a car meet
Agenda for Saturday:
Wake up around 8 or earlier and go for a walk around the complex
Have a good breakfast (oatmeal, even though it's the instant kind)
Do a 30-60 minute workout (wii fit and just dance 2)
Do Laundry and Dishes
Snack
More Chores
Lunch
Chores
Dinner
Do a 30-60 minute workout (wii fit and just dance 2)
Repeat for Sunday (minus the chores, if I get them all done)
Hope everyone has a great day!!