I didn't actually think I would be getting this since they had limited quantities but it's here! Oh, I suppose I should share what I got with you...duh! :)
So it all started with a blog post by Anna at Embellishments ( Here
). She did a post about Target giving away a bunch of samples in a cute little makeup bag. I couldn't help but jump onto Target.com and sign up for this lovely bag of goodies. Who doesn't love free samples?
Isn't this the cutest little makeup bag ever?! I think so!
I was so excited that I actually received one of these because I figured probably 1,000's of people signed up for this offer and that I might not get one.
It's a cute little makeup bag with a purple and periwinkle blue design on it and zipper closure.
Inside it's the same colors as the front but says Sonia Kashuk all over! It's super soft too and the perfect size to hold lip glosses, lip sticks, mascara, eye shadow and whatever else you want to throw in it.
The thing I love about it is that it's small enough to fit in my smallest purse!
Now.... On to everything that came inside of this adorable bag!
It doesn't look like a lot and for some reason I thought there would be more but it's still awesome because there are quite a bit of samples to try out.
I can't wait!
There are sampoo samples, lotion, chapstick, coupons and lip gloss.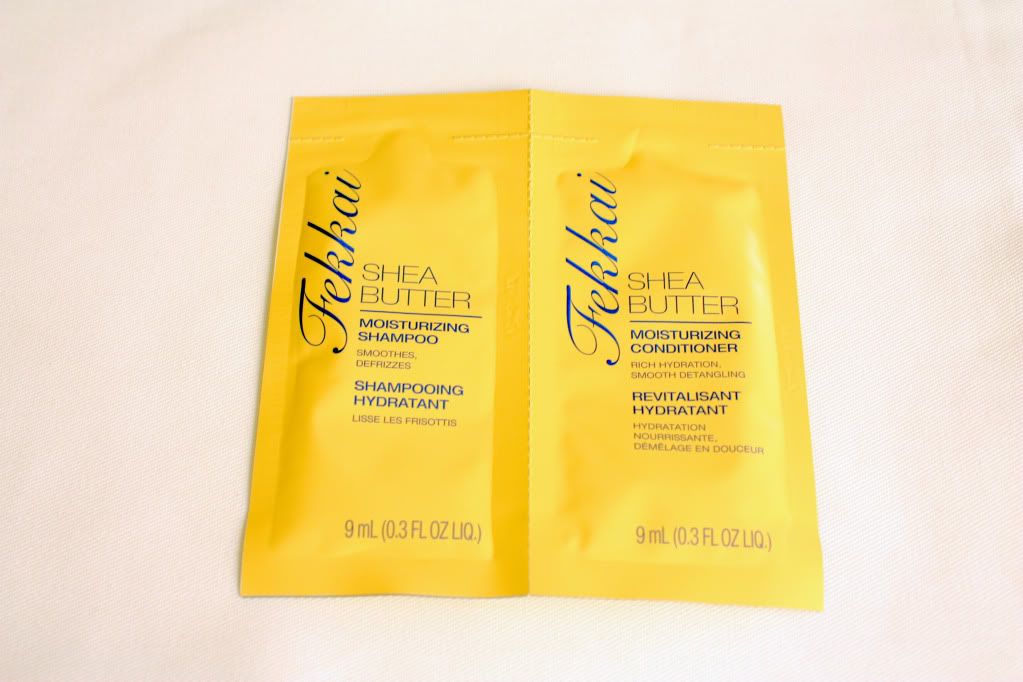 9mL each
The first one we'll start with is the Fekkai Shea Butter Moisturizing Shampoo and Conditioner. I'm really excited to try this out because my hair is always dry.
The Shampoo: Smoothes and Defrizzes.
The Conditioner: Rich Hydration, Smooth Detangling.
On the back of the Shampoo it says "Rich, creamy shampoo, with shea butter, smoothes ultra-dry, coarse or unruly hair and leaves hair feeling moisturized.
On the back of the Conditioner it says "Rich, hydrating conditioner, with shea butter, detangles and smoothes ultra-dry, coarse or unruly hair.
This would have to be one of my favorites from this sample bag.
Revlon Colorburst Lipgloss! IN

HOT PINK

!!! Yay! I'm excited. I've been wanting to try out their lip glosses but I never know what color I want to get and how they look.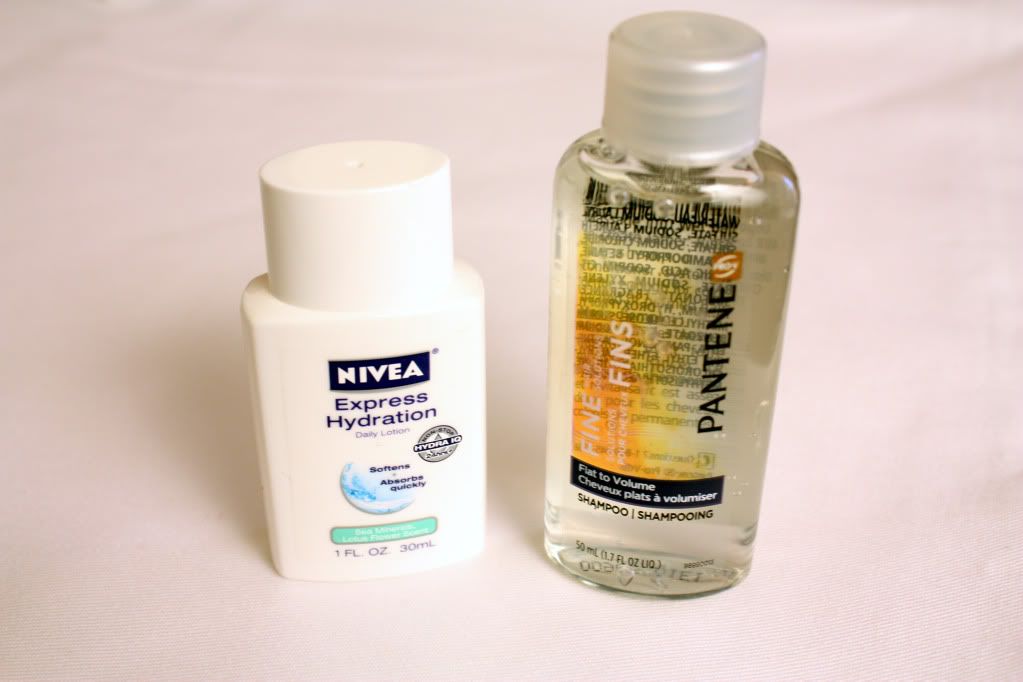 I think it was meant to be for me to get the hot pink one.. unless they sent the hot pink to everyone! OH NO! lol
Next is the Nivea Express Hydration lotion with sea minerals and lotus flower scent.
It smells great and I'm a picky lotion scent person.
The lotion comes in a 1 fluid ounce bottle.
The Pantene Pro-V Shampoo sample is a 50mL bottle. It's even gentle enough to use on color-treated hair. It states on the bottle "Flat to Volume". I hope it lives up to that cause I could use some VoLuMe in my life! :)
The last sample in the bag is the Neutrogena Naturals Lip Balm with Vitamin E that nourishes & soothes.
No harsh chemical sulfates, parabens, petrochemicals, dyes or phthalates. Plus it's a dermatologist recommended brand.
I just tried this lip balm and I'm a picky lip balm person as well because I can't stand the cherry lip balms (they're nasty) and I'm not a big minty lip balm person.
I usually just stick to the plain lip balms and this one is perfect. Plus I don't get this weird taste in my mouth from licking my lips with it on.
Last in the bag of lovely samples is this cute little booklet of coupons! There's $1 off Revlon items, Burts Bees, Neutragena, Sally Hansen, Nivea, and much more! Some are $1 off, $0.75 off, $3 off! I can't wait to go shopping!
Did anyone else get in on this offer and receive their sample makeup bag?