Coastal Scents Lip Smacks in Love Kitten
I received this lip gloss as part of a Christmas gift. The color is pink with a brownish tone to it. I know that doesn't sound pretty but the color is really beautiful and flattering to any skin type. One thing I was a little worried about with trying this lip gloss is that it's very sparkly. I'm not a big fan of full on glitter lip glosses but this one is very subtle. It adds a hint of sparkle without totally taking over your lips.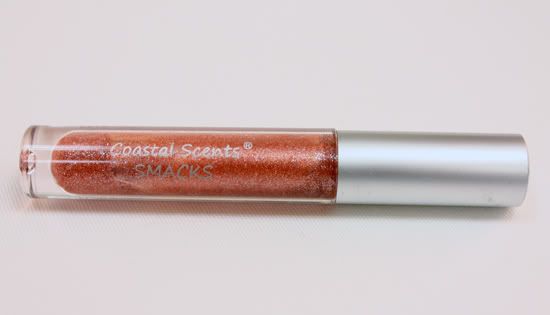 As you can tell, I'm almost out of product! This has actually been one of my favorite lip glosses. It goes on really well and doesn't leave my lips feeling super sticky.
The applicator is a nice size, not too big like the wonder woman lip gloss by MAC and it's not too small.
My boyfriends mom chose [Love Kitten] for me because she thought of the [kitten] part and thought of how much I love cats and especially my kitty. She thought it would only make sense to get me the [Love Kitten] gloss.
The color is really pretty! Did I mention this is one of my favorite lip glosses? I'm usually picky when it comes to lip glosses. I don't want one that's going to be too sticky or not enough shine or one that is packed with too much glitter.
Here it is on my lips. You can see the sparkle but can tell it's not overpowering. Just the right shade of pink for me and for an every day wear.
There are 21 lovely colors to choose from and personally, I really want to try [Flippin Hot]. It's a gorgeous hot pink color.
Here's what all of the colors look like!
[Photo courtesy of Coastal Scents]